Sun exposure, gravity, and natural deterioration in skin quality cause your face to lose its youthful tone and definition as you get older.
Although there are many options to treat signs of aging, a facelift remains the most effective choice for comprehensive facial rejuvenation.
With the help of New York, NY, plastic surgeon Jon B. Turk, you can look years younger and feel more confident than ever.
Rejuvenate Your Appearance Through Facelift Surgery
A facelift (medically known as a rhytidectomy) is a cosmetic procedure designed to reverse the signs of aging that develop in the face. It is one of the most effective methods of facial rejuvenation, gently elevating and tightening the skin as well as the underlying soft tissues.
A facelift accomplishes what no procedure can achieve. By targeting several layers of your facial anatomy, a facelift creates dramatic improvements and gives you more permanent results than non-surgical alternatives.
Facelifts Are Incredibly Popular
Ready to Meet Dr. Turk?
Request Your Consultation
You can request a facelift consultation at the offices of Jon B. Turk, MD, in Manhattan and Long Island, NY, by calling
(212) 421-4845.
"Couldn't be happier."
Our Patients Leave Outstanding Reviews
Dr. Turk is a very gifted surgeon! I got a rhinoplasty done by him and the results were amazing. He made my new nose fit my face perfectly and it looks so natural. I couldn't be happier with my overall experience:))
View on Google
I am extremely satisfied with Dr Turk. He listened to my concerns and made sure I am completely happy with the results. During my follow up appointment he made a couple of tweaks based on my suggestions until I thought it came out perfect!
View on Google
A Stunning Transformation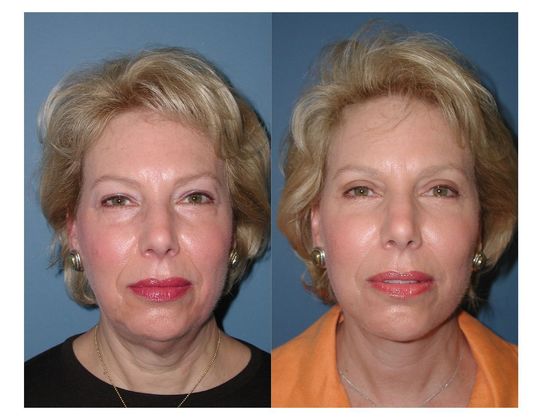 Effects of A Facelift
Reversing Three Major Elements of Aging
Skin
As we age, our bodies produce less collagen, causing the skin to become thinner, looser, and less elastic. Fine lines and wrinkles will appear, especially in areas with frequent muscle contraction.
Gravity also takes a toll, causing jowls and excess skin to accumulate on the lower half of the face. During a facelift, the skin is lifted and pulled smooth, and the excess is trimmed away.
Muscles
Facial muscles can get weaker over time. The loss of muscle tone combined with looser skin can give you a droopy appearance in the cheeks and jawline. During a facelift, the muscles are tightened to reduce sagging and banding around the jawline.
Fat
The fat pads that give your cheeks definition can shift and diminish as you get older. Meanwhile, fat deposits under the chin tend to grow, creating extra fullness in the lower half of the face.
While a facelift can remove some excess fat, we often integrate liposuction and/or fat grafting into the procedure to restore definition to the cheeks and jawline.


Dr. Turk Is a True Specialist In Aesthetic Facial Surgery
Your face is the first thing others will notice about you. When investing in rejuvenating your appearance, it pays to choose a true cosmetic surgery specialist like New York City native Dr. Turk. He has honed his ability as a specialist over more than three decades in practice, consistently earning media features for his work.
Dr. Turk approaches his facelift procedures with an artistic mindset that he has cultivated throughout his life. Our surgeon uses his skill to achieve transformative, natural-looking results that avoid an overworked appearance. His creative ability is bolstered by his rigorous academic background, which includes a craniomaxillofacial surgery fellowship at Switzerland's famed University Hospital of Bern.


"Dr. Turk is such a great doctor."
New York Raves About Dr. Turk
I highly recommend Dr Turk along with Dr Lafer, and his wonderful staff Joanne and Dana! They are a fantastic professional and caring team!
View on Google
Dr Turk is Such a Great Doctor ! He cares so much about each patient and gives each one his Undivided attention! Thank you for All you do !
View on Google
Candidates
For Facelift Surgery
Your plastic surgeon will first meet with you for a consultation at our New York City practice to determine if a facelift is right for you. To be a good candidate, you should be a non-smoker in good overall health. While there is no age limit for facelift patients, individuals with good skin elasticity tend to have the most success with the procedure.
We will also discuss your goals for treatment to ensure a facelift can realistically meet your expectations. If not, we can recommend alternative options that might be better for your needs.
Explore Your Candidacy
Contact Us Today
The best way to find out if a facelift is right for you is to receive an in-person evaluation from our specialist, Dr. Turk. Call (212) 421-4845 or write to our New York team to request your consultation.
Personalized Enhancement
Combining & Customizing Surgical Techniques
It is important to understand that plastic surgery is a customized process. The right facelift technique is different for each patient depending on their unique features, facial structure, and overall cosmetic goals. Your doctor will carefully assess your needs during the consultation process and develop a treatment plan that will achieve the most satisfactory results.

In many cases, our custom facelifts include additional surgical techniques. We often combine eyelid surgery (blepharoplasty), liposuction, neck lifts, and rhinoplasty with a facelift to address other areas that might need supplementary enhancement. The goal is to achieve well-balanced results and harmony among all the aspects of your appearance.
A Closer Look at the Procedure
Facelifts are generally performed on an outpatient basis at our New York City surgical center. The length of the facelift procedure can vary based on your custom treatment plan, but it usually takes a minimum of two to four hours. Here's what to expect:
The goal is to achieve well-balanced results and harmony among all the aspects of your appearance.
We Also Perform Thread Lifts
To Turn Back the Clock Without Surgery
During a PDO thread lift, Dr. Turk uses dissolvable sutures to achieve the skin rejuvenation and lifting that many patients desire from facelifts. This procedure promotes the development of new collagen that helps preserve a youthful appearance. Our thread lifts are more affordable and less invasive than facelifts; however, many patients opt for facelifts due to their more transformative results.
Facelift improvements are also significantly longer-lasting. Facelift results can be expected to last from 10 to 15 years while thread lift results last approximately eight to 12 months. Patients who do opt for a thread lift will need to repeat the procedure periodically to maintain its effects. At an in-person consultation, Dr. Turk can recommend whichever of his many procedures is the best for you.
"Dr. Turk is the best!"
More 5-Star Reviews From Happy Patients
Dr. Turk is the best! He really listens and he never pushes more than what is needed. Totally recommend him.
View on Google
Staff is great!. Dr. Turk is a wonderful doctor and the only one I recommend to keep you looking forever young!
View on Google